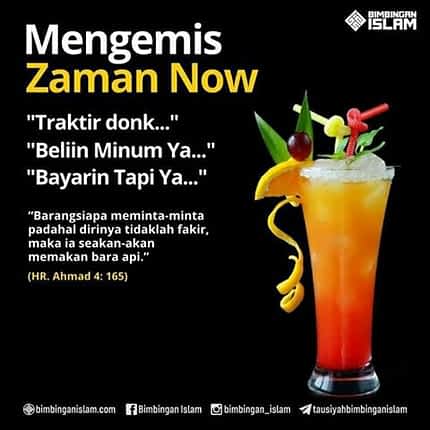 Mental Miskin Berjiwa Pengemis
Hallo,saudara terbaik kali ini kami bawakan cerita dapat dari channel telegram sengaja tak copas karena cukup menarik sebagai inspirasi dengan tema mental miskin berjiwa pengemis tema yang belom pernah di muat di blog lama saya apalagi di blog ini ,ok langsung di simak.
CERITA INSPIRATIF
Mental Miskin Berjiwa Pengemis
Seorang sahabat yang tinggal di Australia bercerita tentang pengalamannya,
"Suatu sore, sesudah menikmati secangkir capucino di Gloria Jeans Café yang capucino-nya paling enak (menurut saya), kami mampir ke toko roti. Membeli sebatang roti kismis dan minta kepada si mbak penjaga toko roti, untuk dipotongkan, sehingga nanti di rumah gampang, tinggal comot dan makan.
Selesai dipotong dan dibungkus rapi, lalu diserahkan kepada saya. Langsung saya berikan uang lembaran 10 dollar.
Tapi ditolak dengan senyum manis, sambil berucap, "It's free nothing to pay."
"Are you sure?" kata saya.
Gadis remaja yang tugas jualan disana, menjelaskan, bahwa kalau sudah ditutup, roti tidak boleh lagi dijual. Boleh diberikan kepada siapa yang mau atau diantarkan ke Second Hand shop untuk orang yang membutuhkan.
Agak tercengang juga saya dengar penjelasannya. Terbayang, kalau di Indonesia, wah bisa bangkrut ini, karena orang bakalan menunggu toko tutup supaya dapat yang gratis.
Belum selesai ngobrol dengan si mbak, tiba-tiba ada suami istri, yang juga mau belanja roti. Rupanya mereka tanpa saya sadari sudah mendengar percakapan kami. Kelihatan si pria adalah orang Australia, sedangkan istrinya adalah tipe orang Asia. Si wanita juga minta roti di mbak, tapi di cegah oleh suaminya, sambil berkata,
"No darling, please. We have enough money to buy. Why do we have to pick up a free one? Let's another people who need it more than us take it."
Wah… wah, merasa tersindir wajah saya panas… Egoisme saya melonjak ke permukaan, merasa tersindir dengan perkataannya. Dalam hati saya bergumam, "Hmm saya ini dulu pengusaha tau".
Tapi, syukur cepat sadar diri, gak sampai terucapkan. Karena orang yang bicara suami ke istrinya, masa iya saya tiba-tiba nyelak ditengah tengah?
Hampir saja saya berbuat kesalahan. Karena toh mereka tidak omongin saya… Kalau saya merasa tersindir, itu salah saya sendiri.
Hingga menjelang tidur, kata-kata si Suami kepada istrinya masih terngiang-ngiang rasanya, "We have enough money to buy… why do we have to pick up a free one."
Setelah saya renungkan, saya merasakan bahwa kata-kata ini benar. Kalau semua orang yang punyai duit, ikut antri dan dapatkan roti gratis, yang biasanya diantarkan ke Second Hand Shop untuk dibagi bagikan gratis, berarti orang yang sungguh-sungguh membutuhkan tidak bakalan kebagian lagi roti gratis.
Walaupun saya sesungguhnya mau membayar, namun si mbak yang nggak mau terima uang saya. Pelajaran hidup ini tidak mungkin akan saya lupakan.
Kalau kita sanggup beli. jangan ambil yang gratis. Biarlah orang lain yang lebih membutuhkan mendapatkannya.
Sungguh sebuah kepedulian akan sesama yang diterapkan dengan kesungguhan hati.
Kini saya baru tahu, kenapa kalau di club ada kopi gratis, tapi jarang ada yang ambil, mereka lebih suka membeli. Bukan karena gengsi2an, tetapi terlebih karena rasa peduli mereka pada orang lain, yang mungkin lebih membutuhkan.
Pelajaran yang sungguh sungguh memberikan inspirasi bagi diri saya.
Tuhan sudah memberikan berkah yang cukup untuk kita, tidak perlu lagi kita mengambil bagian berkah yang diperuntukkan bagi orang lain.
Ketika kita mendengar ada program pemerintah untuk membantu orang miskin, apa yang ada dalam benak kita?
Apa kita akan ikut bersiasat agar mendapat bagian? Ataukah kita merekayasa data agar kerabat dan saudara kitat dapat bagian juga?
Atau kita sok jadi pahlawan dengan mengajukan diri sebagai pendamping program, tapi dalam pikiran kita tersimpan niat busuk untuk memperkaya diri sendiri?
Sahabat, kemiskinan bukan untuk dipolitisir dan dieksploitasi. Orang miskin dan kemiskinan adalah ladang amal. Keberadaan orang miskin adalah cara Tuhan untuk menguji sejauh mana kepedulian dan keimanan kita. "Jangan ngaku beriman jika tetangga kanan kirinya masih ada yang kelaparan".
Sementara kemiskinan adalah mental yang mesti dirubah dan diberantas. Mental minta-minta, mental gratisan, mental pemalas, mental potong kompas, termasuk mental jualan data orang miskin, semua itu adalah Mental Pengemis yang membuat bangsa ini rendah dan terhina, itulah kemiskinan kultural.
Sudah saatnya kita bangkit dan sadar, tangan di atas lebih baik dari pada tangan di bawah. Menjaga harga diri lebih baik dari pada menjatuhkan kehormatan hanya demi sesuap nasi.
"Maka nikmat Tuhan manakah yang kamu dustakan?
Sumber : http://telegra.ph/Mental-Miskin-Berjiwa-Pengemis-03-12
Termasuk mengemis juga adalah meminta tanpa keperluan misalnya oleh – olehnya dong selametannya dong dll.
Bahaya Orang yang Sering Meminta-Minta
Orang yang sering meminta kepada orang lain bukan hanya akan membahayakan dirinya sendiri, akan tetapi juga orang lain, bahkan kerugian mereka di akhirat.
Menyakiti diri sendiri dan orang lain
Merasa kecewa bila diberi sedikit, bahkan marah apabila permintaannya ditolak. Terkadang para pengamen dan pengemis mengganggu orang yang sedang makan, berjalan, ataupun orang yang sedang berkendaraan.
Menjadi miskin jiwa dan harta
Rasulullah shallallahu 'alaihi wa sallambersabda:
"Tidaklah seorang hamba membuka pintu untuk meminta-minta melainkan Allah membukakan baginya pintu kefakiran." (HR. Ahmad 4/207 di Shohihkan oleh Syaikh Al-albani dalam Shohih Targhib wa Tarhib: 1/99)
Sehingga dia menjadi orang yang selalu merasa butuh dan butuh.
Memasukkan diri sendiri ke dalam api neraka.
Rasulullah shallallahu 'alaihi wa sallambersabda:
"Barangsiapa meminta harta benda kepada orang lain dengan tujuan memperbanyak (kekayaan), maka sebenarnya dia meminta bara api, oleh karena itu terserah kepadanya mau memperoleh sedikit atau memperoleh banyaknya." (HR. Muslim: 1041)
Dilanda kemiskinan dengan tidak merasakan kepuasan.
Rasulullah shallallahu 'alaihi wa sallambersabda:
"Barangsiapa membukakan bagi dirinya pintu meminta-minta tanpa kebutuhan yang mendesak, atau bukan karena kemiskinan yang tidak mampu bekerja, maka Allah akan membukakan baginya pintu kemiskinan dari jalan yang tidak disangka-sangka." (HR. Baihaqi, lihat Shohih Targhib wa Tarhib : 1/195)
Cuplikan dari : https://muslimah.or.id
---